How to Install an SSL Certificate with cPanel
In this guide, we will show you how to install an SSL Certificate in cPanel.

In order to install an SSL Certificate, you must first be sure that the SSL Certificate has been activated and issued to you by the Certificate Authority.

If you do not have an SSL Certificate, we have them available here.
---
Step 1
Log into your cPanel account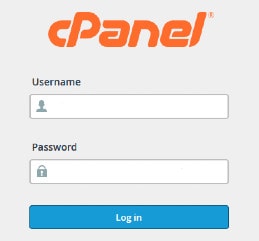 Step 2
Scroll down to Security and click on SSL/TLS icon.

Step 3
Click on 'Manage SSL Sites' under Install and the Manage SSL for your website (HTTPS)menu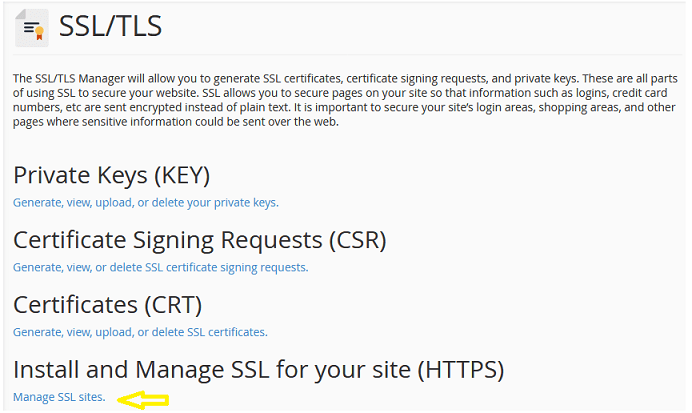 Step 4
Select your domain name from the drop-down menu.

Copy the certificate code you received from the Certificate Authority including -----BEGIN
CERTIFICATE----- and -----END CERTIFICATE----- and paste it into the 'Certificate: (CRT)'
field on the next page. The certificate files can be opened with the help of text editor on
your computer.

Note: The certificate code can be found in the file *yourdomain*.crt which is usually sent
to you in the email from the Certificate Authority.

Click on the Autofill by Certificate button, which appears next to the certificate entered, and
the system will attempt to fetch the domain name and the private key. You may also choose
the domain from the drop-down list and manually enter the certificate and private key into
the corresponding boxes.

If the system fails to fetch the private key, you can locate it in the Private Keys (KEY) section
of the SSL/TLS Manager.

Please remember to include Begin/End headers and footers for the certificate and the key.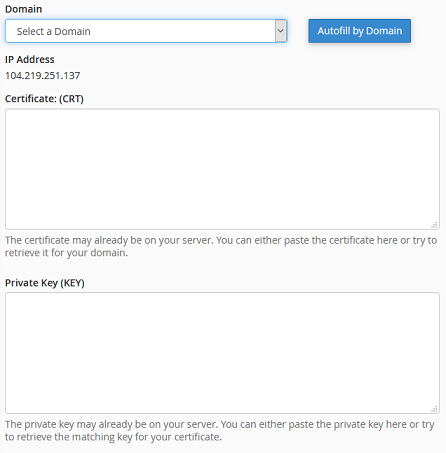 Step 5
Copy and paste the chain of intermediate certificates (CA Bundle) into the box under Certificate
Authority Bundle (CABUNDLE).

If you want to use this certificate for Mail Services (Exim and Dovecot), tick the checkbox
" Enable SNI for Mail Services ". In this case, you will be able to use your domain, on which SSL
certificate has been installed, as a hostname of the mailserver configuring your mail clients to
work via secured ports.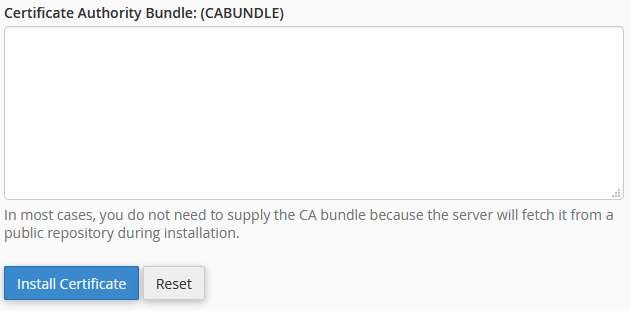 Click on the 'Install Certificate' button.
Great work ! The SSL Certificate is now installed.
---