---
  Deciding on a domain name is just as essential as deciding on a business name. The ideal domain name does a lot more than just help create your brand, the name should really entice people to your website. To come up with the ideal name may be a difficult task for new web based business owners, particularly if your name options are unavailable to register. With million's of domains currently registered throughout all top-level domain name extensions, to come up with something unique could be challenging. Trying to keep the domain name easy and simple to remember is a great starting point, although there is much more to it than that.
  Your website name will act much more than just an address for your web site. For this reason there are numerous aspects you should take into account when thinking domain names.  In this article, we explain exactly why registering an ideal domain is extremely important as well as how to register your own distinctive name as well as domain name extensions which you may not even take into account. Follow our guidelines to choose a standout domain name.
---
The Length   Typically, the most popular websites include between six to eight character domain names and vary from one or two words. Ebay, Amazon and Yahoo, for example, are well known websites that have been successful by keeping it short and simple. Lengthy, complicated domains are difficult to remember and there's a possibility of being misspelled. It's good to keep the domain name as short as possible.
Intuitive   Be rational, give your website a user-friendly website address that gives an understanding of what you're all about. Boston Pizza is a great example of an instinctive domain name for a website all about food. Prospective customers could realistically guess what they will discover at that website.
  Another advantage of an instantly user-friendly website name, you are easily more unique. It's guaranteed to stick in someones mind once they can understand your principle solely through the domain name. Reevaluate your decision if you realize people find it difficult to pronounce your company name as soon as it's in writing.
Avoid Numbers/Hyphens   Steer clear of numbers and hyphens if possible. Numbers in many cases are misinterpreted. Just imagine reading a website name which has a number. You actually will not know if you should spell it out (five), or use a numeric (5). In addition, dashes can result in uncertainty, would you write out dash, or use a dash, or leave it out entirely? In the event that these are necessary for your domain, make sure you register all the various names to be safe. A three word domain name could possibly be easier to remember than a two word domain with a hyphen. Try to avoid numbers and hyphens.
Pronunciation   When you have to spell your website address out to friends and family, you are asking for trouble. People today misspell domains regularly, particularly if they're difficult to understand. Choose something simple to pronounce, therefore it's simple to spell, to prevent losing website visitors in this manner. There is practically nothing wrong with innovative spelling. Remember, the easier it is to pronounce the domain name, the easier it will be to remember the domain name.
SEO Friendly   Search engine optimization is a widely practiced technique for boosting the amount and quality of visitors to your site by means of search engine results (Commonly known as SERP). Your domain name needs to be selected with Search engine optimization (SEO) in mind. Implementing keywords in your domain name is a search engine ranking component. On the other hand, you should tread lightly with regards to optimizing your own domain for search engines like bing and google. There are SEO guidelines to stick to ensure search engines understand your website and keep you clear of a penalty for key word stuffing.
Utilize Broad Keywords   Even though industry experts usually say that getting keywords and phrases within your domain name may help your SEO, It's also not a good idea to stuff exact phrase matches. They may deflect through your name brand. The major search engines are additionally pretty hard on spammy techniques so they have minimized the value of key word dominance in the website address. Additionally, it does not provide a good effect to online users, that have arrived at the concept such websites are inferior. Our recommendations would be to stay away from general key word strings such as this. They will not help your search rankings or your clients.
Keywords   Work with keywords and phrases relevant to the company as well as services you provide. In the event you sell computers, add the word computer within your domain. This would not just be preferable for your customers, although serves as a sign to Search engines. The greater constructive indicators you give search engines, such as google or bing, the more probable it is that they'll rank well with your website.
Domain Length   Do not be worried to abbreviate. It's okay to add or alter your first choice domain name should it be unavailable. The only real issues with short web addresses is they tend to be more than likely taken by now. Should your name brand include a typical word or key phrase it will likely be much harder, while made-up words for example, Skype and Paypal are short, distinctive and unforgettable instead of using a method such as typical keywords. It is also a good idea to reduce the characters in a long domain name, the less characters your domain name has, the simpler it is to type.
Interesting Domain Name Facts
NORDU.NET  was the first domain name created on January 01 1985
Symbolics.com was the first domain name registered on March 15 1985
The most expensive domain name ever sold was VacationRentals.com for 35 million
Over 100 million .COM domain names were registered in 2011
Youtube.com was registered on Valentine's Day on February 14, 2005
There are over 50k variations of 3 character domains. None are available today.
Domain Name Registration in Numbers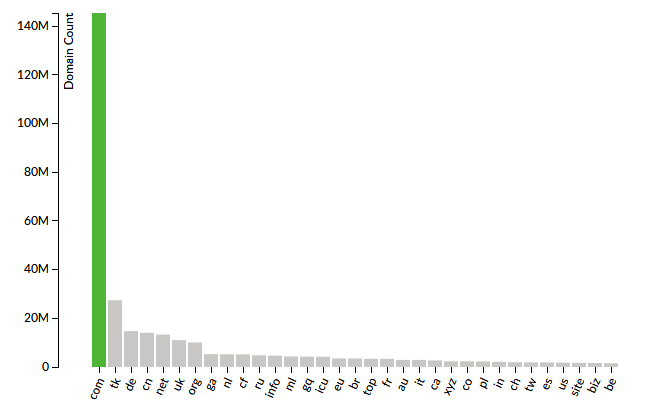 ---
Related Article:
The Difference Between Free Domains and Paid Domains