December 10 2019
Read Time: 8 minutes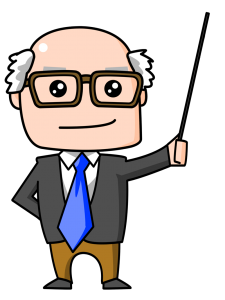 You want your website to reach page one of Google search.
That's impossible.
Not a chance.
Well..
There is a chance.
 If you follow up on this guide, you will be quite surprised how quickly you could get your website on page one, however don't expect any magical single button to click. There will be some work involved, ranging from optimizing your Title/Meta Description tags to removing web pages or articles that serve no purpose. You might cringe at thinking of removing pages that you had up for many years, however these pages could be the culprits that have penalized your website and holding you back.
 We can assure you that we won't ask you to pull out your wallet or purse. No popups, catches or any nonsense here. This is 100% absolutely free. Does this sound like a sales pitch? Hope not. We're not selling anything and just here to help you get to the top. If you follow through with these guidelines, you will surely see fantastic results.
 In this tutorial, we will show 10 quick and simple methods for getting your website on Page One of Google.Based on new research, more than 75% of total website visitors originates from search engines like google. 75% of those people really do not even bother searching the 2nd web page or beyond for search engine results. Consequently, in order to receive any kind of sizable amount of visitors to your site, you have to be on the very first page of Google search.
 Microsoft indicates that there are more than 2 billion websites on the internet. So you could be asking yourself, how in the world is it possible to out-rank endless amount of websites within the search engines results?
 Well, regardless of the high level of competition, we are here to let you know that it's definitely not out of the question to rank high on Page One. Fortunately, there are several quick and simple methods to drastically improve your search positions on the internet. The collection of these techniques and methods which can help web pages position much better in search engines like google is referred to as search engine optimization (SEO). In just a moment, we will show 10 effective methods for getting on Page One.
Okay, let's get down to business.
---
1. Add Keywords to Landing Pages
 A website landing page is generally a special web page which marketing experts employ for capturing potential customers by providing a valuable resource free of charge, for example a free e-book, free report, free audit, etc. These types of free resources are referred to as "lead-captures". Based on latest reports, businesses such as Nuffield Health have been in a position to produce 70% more profits simply by optimizing their webpages for SEO. This is done by including keywords which their own customers utilize on the landing page.
 There are four effective ways to incorporate keywords into your landing pages.
Research Keywords
 Before you decide to jump straight into developing a landing page for your web-site, it's very important you understand which keywords and phrases you will be focusing on. You do not want to include what you consider good keywords and phrases to your customized web page, only to discover after analyzing the metrics that your landing page gets hardly any traction.
 Should you need assistance picking out certain keywords, you might want to use the help of an SEO specialist, however we strongly suggest to research any SEO company, before dishing out any money. If your budget is tight, don't worry, there's no need. You could use a free online tool such as Google Ads or Ubersuggest. Once you type in your own base keyword, you will have the ability to discover alternate keywords that could be much more helpful in getting leads to convert to a sale.
 You will need to uncover keywords that will be competitive to rank for a high amount of website visitors, but are not so competitive that it's very unlikely to position for towards better established organizations. When you're having difficulty with keyword analysis, there is always the option of hiring a good SEO company to assist. Once you learn which keywords you are likely to use in your web page, you could start the process of creating, modifying, and publishing.
Use a Keyword Rich Domain
 Using keywords in the url of your website is important in how good you rank in SERPs (Search Engine Results Page).
 The fact is, it's advised that you purchase a domain and integrate keywords into it, by having a keyword in the domain name to achieve the most exposure. Add a keyword as the very first word in your domain to get maximum edge over the competitors. Should you make subdomains for your website, include keywords there as well. This is often over-looked.
 The important thing is to get your keywords ranking in search results. Furthermore, a domain name with keywords and phrases relevant to what you are providing can make things a lot easier with unique visitors to your site. Website visitors need to know straight away if the websites they reach, have what they're searching for or not.
 Keep in mind, most consumers are in a hurry and need what they want immediately. Among the least complicated way to make sure whether the web page a site visitor has ended up on is relevant to them or not is to look at the domain name.
Add Keywords to Your Images
 It might not appear to be an issue with how you tag the images you choose on your landing pages, although the reality is, search engines like google, crawl your websites images equally as much as they do with your websites material. For that reason, you will want to make sure to include keywords to your image's alt tags in order that search engine crawlers could index your websites images in the appropriate search engine results.
 In addition, you might want to provide your image with a title as well. However people will not always see the title of your image once they arrive at your site, anyone who hovers on top of it could. You do not want people seeing a picture of your best-selling product or service which includes a description such as "img-927.png". This provides the website visitor no additional information, which could signify a lost prospect.
 When working with a landing page program such as Landingi, including image titles as well as alt tags is not hard to accomplish in the backend of your website.
Index Your Landing Page
 Should you have an existing website, it's very likely you have submitted your website to well-known search engines like Google, Bing already by means of generating an XML sitemap. All things considered, ensuring your site is visible to search engines and the crawlers responsible for indexing your website and showing it in appropriate listings is essential for generating high quality visitors to your website.
 Don't ignore indexing your landing page as well. However if the website editor you are using provides the chance to enable indexing by search engines like google, take advantage of this function in order to be sure. The advantage of landing page tools that provide ways to index your website is they additionally make space so that you can include many keywords as well.
 In this manner, crawlers understand precisely what your website is all about and places it within the correct search engine results when people query search engines like google. Do not invest all of your time and money developing a great website created to increase conversion rate and revenue and also have it fail since it hardly ever comes up in search results.
---
2. Perform a Content Audit
 Popular search engines anticipate website owners to provide value for their website visitor's. They don't want you to create articles that offer worthless material. If your website has many poor quality blog articles, the major search engines might find your website as a less authoritative site, causing a drop in targeted traffic.
 A Content Audit is the procedure of going through your websites content and getting rid of low quality articles from your website. Does this genuinely help? Indeed it does. A popular SEO website Ahrefs once cleaned up and removed almost 35% of their overall content and saw a jump of traffic by 10%.
 The flowchart below displays very clear information in order to perform a content audit. First of all, you determine if your published website has exceeded six months or not. If not, you should check if there are any kind of issues with backlinks or not, after which you could correct. In the event the website has exceeded six months, find out if it has a decent amount of website visitors or not. If not, evaluate the article and find out if the content could be better.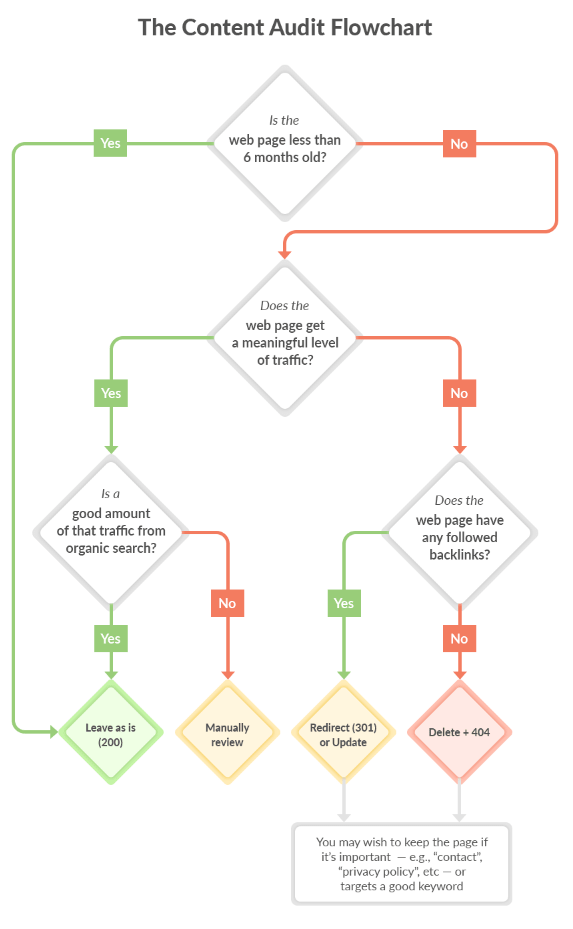 ---
3. Allow Your Audience to Dictate Your Content
Don't assume everyone on the web are the people in your target market. To receive good quality website traffic, you should know your target audience. It is possible to research your target audience simply and easily using resources such as Google Keyword Planner or UberSuggest. To be familiar with the current demand for specific topics, you may also have a look at trends by using Google Trends.
Once you research your target audience, you need to generate unique articles that they prefer. For example, the keyword, "Top 10 Cameras Under $500" can be a more practical answer for you, rather than, "Top 10 Cameras in the World". That is because the first keyword is more specific as to what the target target audience likes. In this instance, you are targeting individuals who want a budget camera, not just any camera.
 Draw up a list of specific keywords for your visitors and begin creating content, particularly for them.
---
4. Multiple Keywords
 In the event that two or more blog articles on your domain name fight for the same set of keywords, it could confuse search engines, resulting in a drop in authority and website traffic. To keep clear of "keyword grouping", make sure you don't use exactly the same main keyword in numerous posts. Be sure you start using a distinctive word just about every time you create an article or post.
 Needless to say, it's okay to generate content about topics which are relevant to one another, or bits of information that go a lot more thoroughly on specific topics. Most of these side topic articles or blog posts are able to connect to the article on your primary subject, to ensure that search engines is aware of which content to show in the search engine results for certain inquiries.
---
5. Use Secondary Keywords
 You will notice a huge rise in your search website traffic with this particular hack. It can be a simple yet effective strategy to boost your website traffic. All you need to carry out is place secondary keywords to your best performing articles or content. This will likely help your content rank for much more keywords and phrases.
 For example, if your website is working good for the keyword "internet marketing," you could place other similar keywords directly into that exact same article, like "affiliate marketing guide", "how to get started with affiliate marketing", and so forth. The good news is, there is a free tool which you can use to uncover the very best performing webpages in your blog. It is known as Google Search Console. A very handy tool that provides a wealth of information.
 You can just click on Search Analytics to view the keywords which are providing the most visitors to your website. Simply edit the article in which you are receiving that traffic and put in secondary keywords that link to the main article.
---
6. Link Your Pages
 It's certain that internal links are very important with regards to ranking your websites for specific keywords. You should never overlook them.
 Within this technique, you need to include links for your authoritative articles or content linking towards your most recent articles. This will likely boost traffic and provide more link-juice for your brand new published posts.
 For example, should your site have a trendy post about wall paintings, you can include a link for your most recent article regarding the various kinds of wall paintings.
---
7. Use Unique Keywords
 The following is an interesting fact. Nearly 20% of yearly queries on Google are completely new. Google processes millions and millions of web searches. Just think about the amount of unique search words on Google. Actually the very best keyword tools available on the market might not offer accurate details to you when it comes to never-before-searched keywords. They are unknown keywords and phrases which will be much better to get ranking. It's not good simply putting keywords on your own web page. Generating engaging articles is all about giving true value for real people, not only giving ideas to our robot buddies at Google.
 There are several standard keyword-use guidelines you need to comply with to begin. Unique key words really should be used on each of your webpage of your website within the areas which robots and people usually look to assure them that you have exactly what they want. This consists of both the title tag and the body of your articles, that leads to an crucial point: the problems of click bait. You might think you're enticing much more mouse clicks by providing teasing-vague titles for your articles, however by hiding the particular webpage is really about, more than likely picking out of some of the benefits of keywords.
 You may also take a look at placing your primary key word into your web address, an <h1> tag on the article, the meta description, and alt attributes of photos on the page; every one of these places will assist search engines on what your articles are really about. Making use of your keywords in these sections is considered the most fundamental method to target your articles to searches. It will not instantly blast you to the highest of the results, however it is important; not being able to adopt these simple guidelines will keep you from ranking by other means.
---
8. Maximize Your SEO Title and Meta Description
 Producing valuable articles is simply insufficient to receive considerable traffic. You must also concentrate on the click through rate of your articles.
 Your own click-through rate is the percentage of people that simply click on your website title in the search engine results. This specific rate will depend on how good your title and meta description is, mainly because that is the title and description that anyone reads whenever your article shows up in the search engine results. Furthermore, an increased click-through rate can gradually create a higher ranking in the SERPs.
 Below are some guidelines for optimizing your title and meta description: Everyone is more prone to click emotionally charged headlines. Your website address should include your targeted keywords. The meta description needs to be attractive enough to tempt people to follow the link. In short , summarize the advantages of reading your content in the meta description.
Also be sure not to make the meta description too long or too short
---
9. Beat Your Competitors
 When you run into several poorly composed articles or content at the top of the google search, there is a big chance to out-do these articles and out rank them. It's not that hard to surpass websites that provide very little worth.
 To make use of this tactic, you have to make your list of long tail keywords and begin searching on the internet. Have a look at the websites which are ranked on Page One.
 From then on, you need to take a look at whether the content have out-of-date, brief, uninformative, or complicated content. If you discover it on the very first page of the SERPs, this means you can just produce a much better article than the others and you ought to have the ability to effortlessly rank for that particular keyword.
---
10. Back Links
Backlinks are an important component of SEO. They assist search bots to crawl your website and ranking it properly to it's content. Every back-link is a portion of a ranking puzzle. That is the reason why every single webmaster hopes to get as much as possible backlinks as a result of increasing a website's SEO rank. It's a form of citation or hyper-link utilised in the text.
 Having a single back link coming from an authoritive website is much better than having 50+ backlinks coming from spammy websites. Remember, it's all about quality backlinks. Should you even think about using an automated tool, you are just setting yourself up to fall hard in the long run. Building backlinks gradually and consistently will pay off big dividends in the end. Try to get backlinks from other websites that are related to your niche. Avoid getting backlinks from websites that are completely unrelated, as this will effect your ranking.
 You might ask, how do I find which websites are linking back to me? The answer is simple, you could find a list of all the websites that are linking to your website through Google Search Console; On the left panel, you will find "Links" and this will provide you with all information needed. If you discover that you have many backlinks coming from spammy websites, you could also use the Disavow tool to have them purged.
---
Need a Deal on a Domain Name ? Check out our Discount Domains section
Domain Names starting at only $2.50 !